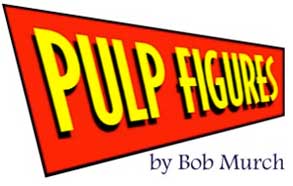 Back To Catalogue
The Pulps could get Weird: Mad science, twisted villains, torture and mayhem!
This is the range for everything that might raise your aunt Nelly's eyebrows- the subject matter that made sure you hid the latest copy of Weird Tales under your mattress where Ma wouldn't find it.
---
Captain Mackenzie slammed his hand down on the railing. "I knew this was no natural fog--I could feel it in my bones!"
Natural? No. You're definitely right there", Mac Mulligan replied, absently rubbing the livid scar that bisected his forehead.
Yes, Mulligan thought. It's all beginning to make sense; The sudden fogs, the abandoned junks, the vanishing freighters and frantic, incoherent radio calls. And then there were the ghastly "accidental" deaths of the Brazilian smugglers…
"Eight lifeboat passengers and crewmen turned to bloody skeletons less than an hour after we responded to their SOS! Could the fog contain some kind of acid?"
"Not acid," Mulligan replied, "Something worse, something much worse. A chemical lure, an aerosol bait."
"A lure?", Mackenzie went suddenly pale with horror. "You mean?"
"Yes. It all ties together. We must change course immediately! We've got to reach the Greater East Asian Benevolent Institute for Ichthyology before the next tide. Mac, unless I miss my guess, Dr. Katana has finally done it. He's successfully crossbred flying fish with piranhas! The fate of the entire South China Sea depends on us, or my name's not Carter Mulligan!"
Thanks to Jeffrey Scott Jones, author of this story!
My Bonus System
The 1st 5 packs earn the 6th for free. After that every 4 packs earn a 5th free.

Surface Rate Shipping is free for orders of 8 or more packs.