Ordering & Info
Warning!
These miniatures are cast in pewter and have small parts that are not suitable for children under fourteen years of age.
Pulp Figures are sold unpainted.
My Bonus System:
Order five packs, and get the sixth pack FREE. Every four packs after that earns you another FREE pack. Surface mail shipping is free for orders of 9+ packs, worldwide.
On-Line Payment:
The easiest way to order is to use the online shopping basket. Browse through the catalog, view the packs you want to order, and then simply add them to your shopping basket. When finished, chose your prefered shipping method, (surface mail or airmail)
The online payment service uses 128 bit SSL encryption for complete security.
I accept Mastercard, Visa, and Paypal (you can use [email protected] as my Paypal ID)
Paypal also has the advantage that I can accept Discover and American Express cards through that service in addition to Visa and Mastercard.
To Place an Order by Phone:
Call
250-317-7079
I may not always be available but I will return your call.
Or Just E-Mail Me:
Send me an email with your desired order, your address and phone number and I can either send you a Paypal Invoice, or if you are in North America I can call you for your Credit Card details.
Please do not send Credit Card details in a regular e-mail- This is not secure!
A quick reference price chart is posted on the left of this page.
For Old Fashioned Mail-Order:
Customers wishing to mail their credit card details, certified check or international money order:
Send it to:
Bob Murch
4274 Turner Road,
Kelowna, BC, Canada, V1W 2N3
Those preferring to use money orders or certified checks please make them directly to Bob Murch ,not Pulp Figures as the crummy bank charges me $5 handling fee for each U.S. check). Please, no personal checks. I can't accept domestic US postal money orders-they need to be international.
All Transactions outside of Canada are in U.S. dollars.
All prices are calculated in U.S. funds. If you would like to consult the exchange rate please visit:
http://www.tdcommercialbanking.com/tradefinance/rates.jsp
Shipping
I'm an artist not a postal employee so I'm keeping shipping simple.
I try to ship within two days if the product is cast and ready which it usually is.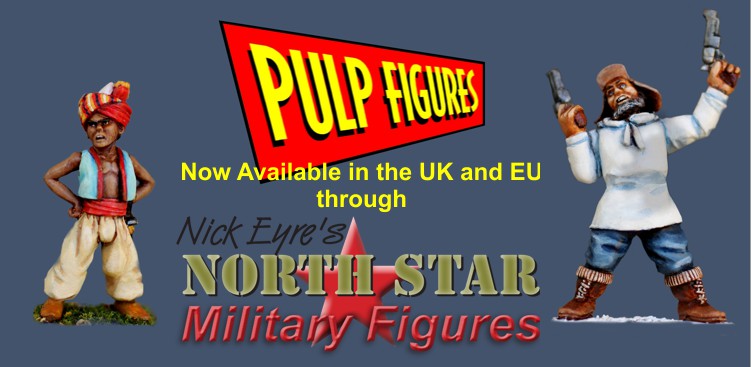 Important but boring information
Pulp Figures miniatures ranges and www.pulpfigures.com are the sole property of Robert Murch and RM Sculptures.
Pulp Figures can be contacted at 4274 Turner Road, Kelowna, BC, Canada, V1W 2N3.
Robert Murch, proprietor of Pulp Figures, is an officially registered merchant (2429-7070, 08 Jan 2002) located in the province of Ontario, Canada.