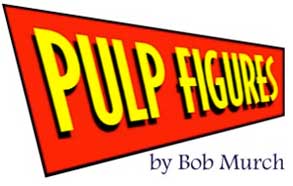 A List of Classic Pulp Era Films
One of the joys of gaming the Pulp Era is the inspiration we can get from period films and movie serials. This list is by no means complete but it is a good place to start getting familiar with the feel of the era.
Adventure Films:
Gunga Din
The Drum
Passage to Marseilles
Manilla Calling
King Kong
The Most Dangerous Game
Tarzan series w/Johnny Weismuller
The Mummy w/ Boris Karloff
The Mr. Moto series w/Peter Lorre
Lost Horizon w/Ronald Colman
The Lost Patrol
Five Came Back
Ghosts On The Loose w/The East Side Kids
The Fallen Sparrow w/Walter Slezak
All Through The Night w/Bogart
Beat the Devil w/Bogart
The 39 Steps w/Robert Donat
The Man Who Knew Too Much ('30's version)
The Lady Vanishes w/Michael Redgrave
Treasure of the Sierra Madre
Cobra Woman w/Lon Chaney
King Solomon's Mines w/Stewart Granger
Hammer Films' The Terror of the Tongs
The 60's Fu-Manchu series w/Christopher Lee
Hammer Films' Mummy series
Hammer Films' The Abominable Snowman
The Land that Time Forgot
The People that Time Forgot
Hope & Crosby's Road Pictures

Detective & Gangster Films:
Little Caesar w/Edgar G Robinson
The Roaring Twenties w/Bogart & Cagney
White Heat w/Cagney
Angels With Dirty Faces
The Public Enemy
The Maltese Falcon
The Big Sleep
The Thin Man series
The Charlie Chan series
Sherlock Holmes series /Basil Rathbone
The Mr. Wong series /Boris Karloff
Republic Serials:
Spy Smasher
Adventures of Captain Marvel
Secret Service in Darkest Africa
The Crimson Ghost
The Masked Marvel
Drums of Fu Manchu
Daredevils of the Red Circle
Perils of Nyoka
Tiger Woman aka "Perils of the African Jungle"
Dick Tracy vs. Crime Incorporated
Mysterious Doctor Satan
Robinson Crusoe of Clipper Island
Radar Men From The Moon
Universal Serials:
Flash Gordon
Adventures of the Flying Cadets
Adventures of Smilin' Jack
The Green Hornet
Other Serials:
The Phantom Empire
Thanks to Ed Bielcik and Mike Manning for helping to assemble this list.