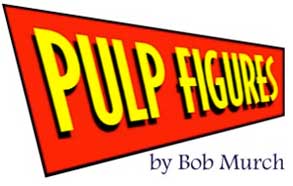 Back To Catalogue
The mysterious East of the Pulps! It is a land of seedy seaport towns, warring warlords and wise monks imbued with ancient knowledge. Above all it is the home of the greatest, most brilliant sinister mastermind of them all...
---
A gentle breeze stirred the exotic oriental wall hangings of Professor Carstairs' London study.
It was late and the famed scholar of Eastern history was still seated at his massive and carved teak-wood desk, hard at work deciphering the Mongolian scroll delivered by special courier only this afternoon. His cup of tea, cold now for the last hour, was close at hand and he reached for it without looking. A small sting of pain struck his index finger. Carstairs gave a startled cry and looked at his cup of tea. A tiny, emerald green snake was coiled about the handle of the cup.
Carstairs' eyes began to bulge and he gasped for breath. In mere minutes it was over and the renowned academic lay head down on his desk, a ghastly purple coloring his once healthy complexion.
The room's curtains parted and Doctor Koo entered the study followed by a pair of scarred Burmese henchmen. One of the henchmen retrieved the snake and placed it back into a small silver box. The other henchman stood watch by the study door. Doctor Koo reached out and drew the Mongolian scroll from beneath Carstairs' lifeless hand. Without examining it, he placed the artifact inside his robe and turning about, he and the Burmese left the room as silently as they had entered.
My Bonus System
The 1st 5 packs earn the 6th for free. After that every 4 packs earn a 5th free.

Surface Rate Shipping is free for orders of 8 or more packs.