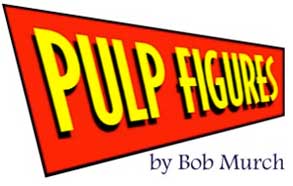 Back To Catalogue
The classic South-Seas setting of the Pulp Era featuring tough merchant sailors, dangerous island tribes and beautiful island maidens, more often than not played by Dorothy Lamour.

Keep an eye on that smoking volcano!
Captain Carney came up on deck just as first mate Gallager was winching a large crate up from the dock. "What the heck is that Gallager? There wasn't any crate listed on the manifest. We're supposed to be shipping canned ham and fuel oil to Malacca."
"It's a little something I won in a poker game last night Skipper. Remember the last time we went through the straights and those Malay pirates gave us a tough time? Well this here is Betty."
Gallager popped the side off the crate with a pry bar. Carney took his cap off and looked inside.
"Cripes, is that a 37mm cannon?"
"Yep Skipper! Ain't she a beauty?"
My Bonus System
The 1st 5 packs earn the 6th for free. After that every 4 packs earn a 5th free.

Surface Rate Shipping is free for orders of 8 or more packs.