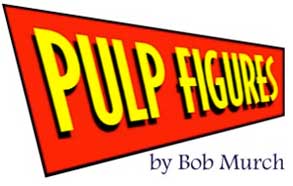 Back To Catalogue
Classic Monsters and Daring Detectives!
Without paying the carnival barker at the entrance, Blake pushed his way into the dark tent. Madame Zovka sat behind the small table, exactly where and how he had last seen her.
"How did you know? How could you have known?"
Her face was without emotion. "I told you at the time. The spirits informed me."
"But the plane, no one could have predicted that it would crash!" Blake's face was ruddy and sweat beaded his forehead.
"You think this is some sort of swindle. That is understandable. I assure you however, that it is not."
Blake took a step backwards. "I didn't send the jewels on that plane. I took your advice, I don't know why." He withdrew a wallet from his breast pocket, opened it and took out a ruby as large as a robin's egg. He placed it on the table in front of the mystic woman. "This is yours by way of my thanks for what you have saved me. I have more questions for you now."
A hint of a smile played around Zovka's mouth.
My Bonus System
The 1st 5 packs earn the 6th for free. After that every 4 packs earn a 5th free.

Surface Rate Shipping is free for orders of 8 or more packs.