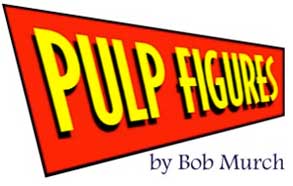 Back To Catalogue
Classic characters inspired by Pulp Era movies, serials, radio and, of course, the great pulp magazines themselves!
---
"Cut!", yelled Merrik Von Stroheim!
But it was too late. Dripping with primordial slime, the frog-like horror sunk below the rank surface taking the famous director's biggest star, Vera Veller, with it. Without hesitation, Nick Carson, knife between his teeth, dove in after them.
"Did you get all that!?", Von Stroheim shrieked to cameraman Max Parker.
"Ya boss", said Parker, impassively drawing on a cigarette as he began loading a new canister of film.
---
My Bonus System
The 1st 5 packs earn the 6th for free. After that every 4 packs earn a 5th free.

Surface Rate Shipping is free for orders of 8 or more packs.