Pulp Figures Home
Welcome to the Pulp Figures site!
(If the site doesn't display properly on your browser try holding the Ctrl key and hitting the - or + key to adjust the display size.)
My name is Bob Murch and I'm the sculptor, mould maker, caster, shipper and chief bottle washer of this plucky, rag-tag enterprise. Pulp Figures turned 10 years old in 2012 and since its beginning, when I often had to explain the term 'Pulp' to many gamers, Pulp Adventure gaming has become an established genre familiar to gamers with many excellent rules systems to choose from.
The inspiration for Pulp Figures remains early 20thcentury 'Pulp Era' adventure film and fiction and the minis remain oriented towards table-top gaming. This is not to say that role-players won't find the miniatures exciting and useful. Everything under the Pulp Figures banner is character driven with fun and personality given priority over strict historical accuracy.
I hope you enjoy the site! I'm constantly adding new content as well as new additions to the ever expanding range of figures. After a decade I feel like I've only scratched the surface of the 'Pulp Era' and I remain as excited to continue making figs as when I began.
Bob Murch/Pulp Figures
P.O. Box 29063, Okanagan Mission R.P.O.,
Kelowna, BC, Canada, V1W 4A7
Please send any questions or comments to:
or

PSS-10 The Volcano Queen set is now available: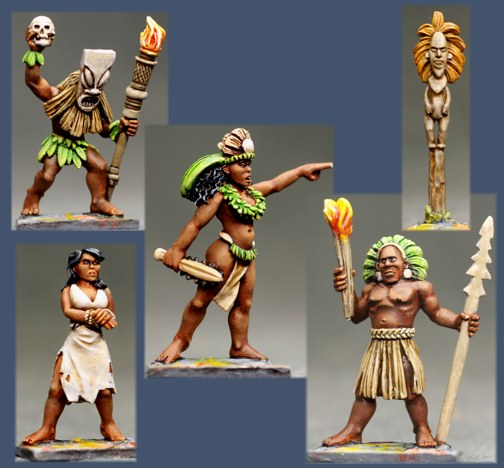 As well PGS-17 German Colonial Maxim guns are also ready. See them here:
Pics of my Tropical Trading Post model have been added to the Gallery.
September Release
PBT-26 The Sgts. 3 in Wolseley Helmets w/Governor & Prince Azim
PYP-5 The Scarlet Patrol, Mounties
PYP-6 The Mad Trappers of Rat River
PYP-7 Treeline Tough Guys